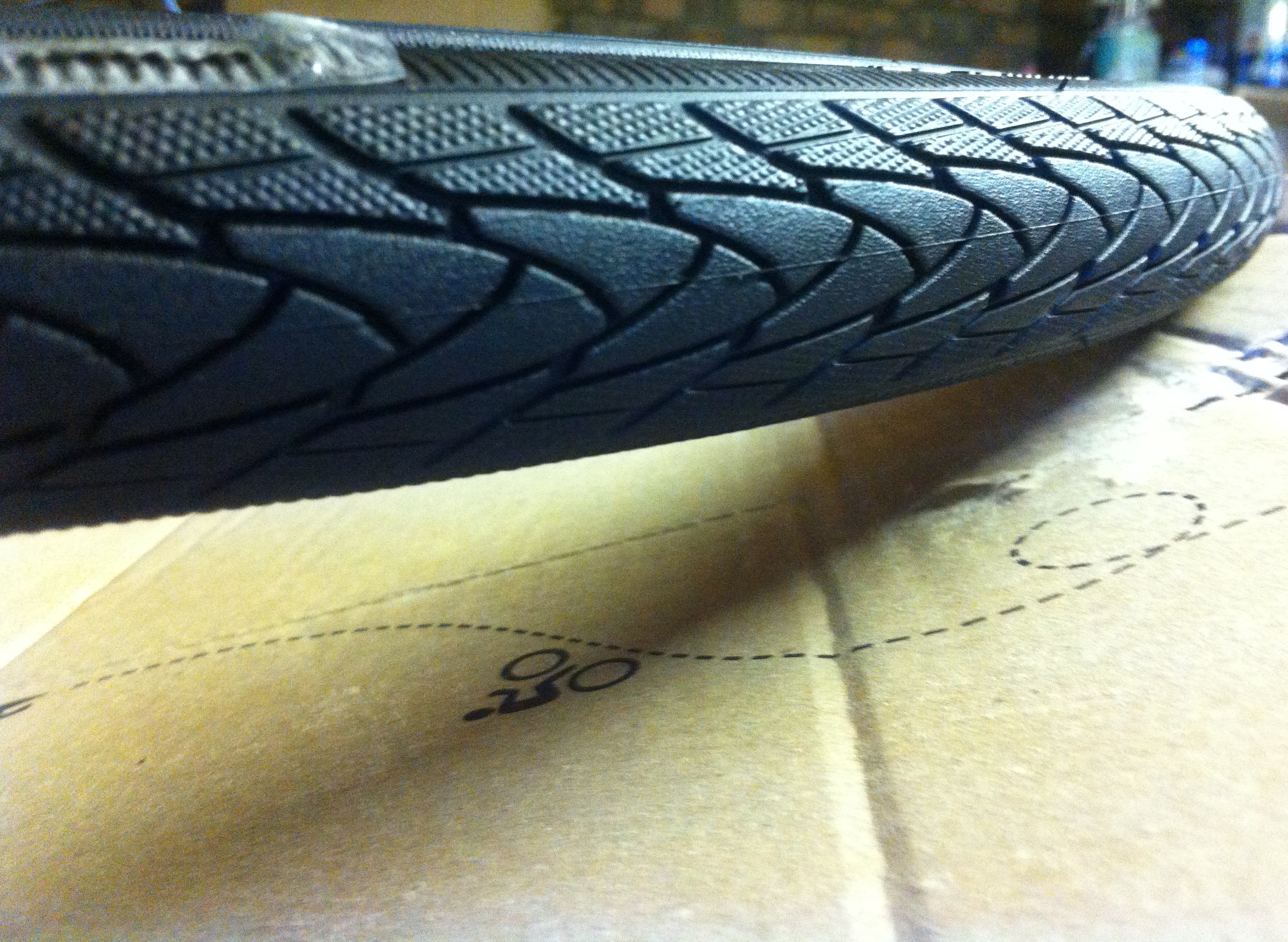 Schwalbe Marathon Plus puncture resistant bike tyre - the latest purchase for my road bike
Road bike or mountain bike - there's Schwalbe Marathon Plus
It doesn't matter what size wheel you have, whether you're looking for a little puncture proof for your mountain bike, or something to to keep you going on your road bike, there is a Schwalbe Marathon Plus for you. I have a couple of mountain bikes, and a couple of road bikes, all with the Schwalbe Marathon Plus puncture resistant tyres installed.
My latest set of Schwalbe Marathon Plus tyres are what has promoted me to write this article. I've has my latest bike for the last 6 months - and, get this - kept the original set of tyres. I wasn't keen, but was persuaded that the tyres which came with the bike (a Specialized Sirrus) were really very good. I'm not convinced, but went with it anyway. The tyres are certainly OK (and the bike is fantastic) but after 3,000 miles I got my first puncture. The tyres must have getting worn anyway, so a couple of Schwalbe Marathon Plus 622x32 were purchased from
Wiggle
.
They're lovely looking tyres and are now fully installed on the Specialized - and are looking good! It was a fight though. Schwalbe Marathon Plus tyres have got a bit of a reputation for being a pain to fit. Having fitted a few in my time, I knew it wouldn't be the easiest job in the world. Fitting them was much harder than planned though...
Sweat and tears, the joys of fitting a Schwalbe Marathon Plus tyre
After 1½ hours of trying to persuade my tyres to introduce themselves to the wheel, they still seemed to be having some serious disagreements. Thanks to the internet (where would we be without the internet) I found enough tips to get the tyres well acquainted with the wheels. And now there's nothing but matrimonial bliss in the bike department.
For those new to the pleasures and pains of the Schwalbe Marathon Plus. Let me share some of the tips which ceased the tears.
First of all, watch the video below. This fella makes things look easy - I still couldn't quite get the blighters on, even after watching three times, but this video will definitely point you in the right direction:
That makes is look easy, doesn't it. If you're still struggling, it's worth purchasing the "
VAR Tool
". This tyre lever (I know, don't think that) is perfect for getting that last bit of tyre over the rim. The unique design means you can use the VAR tool without nipping the inner tube.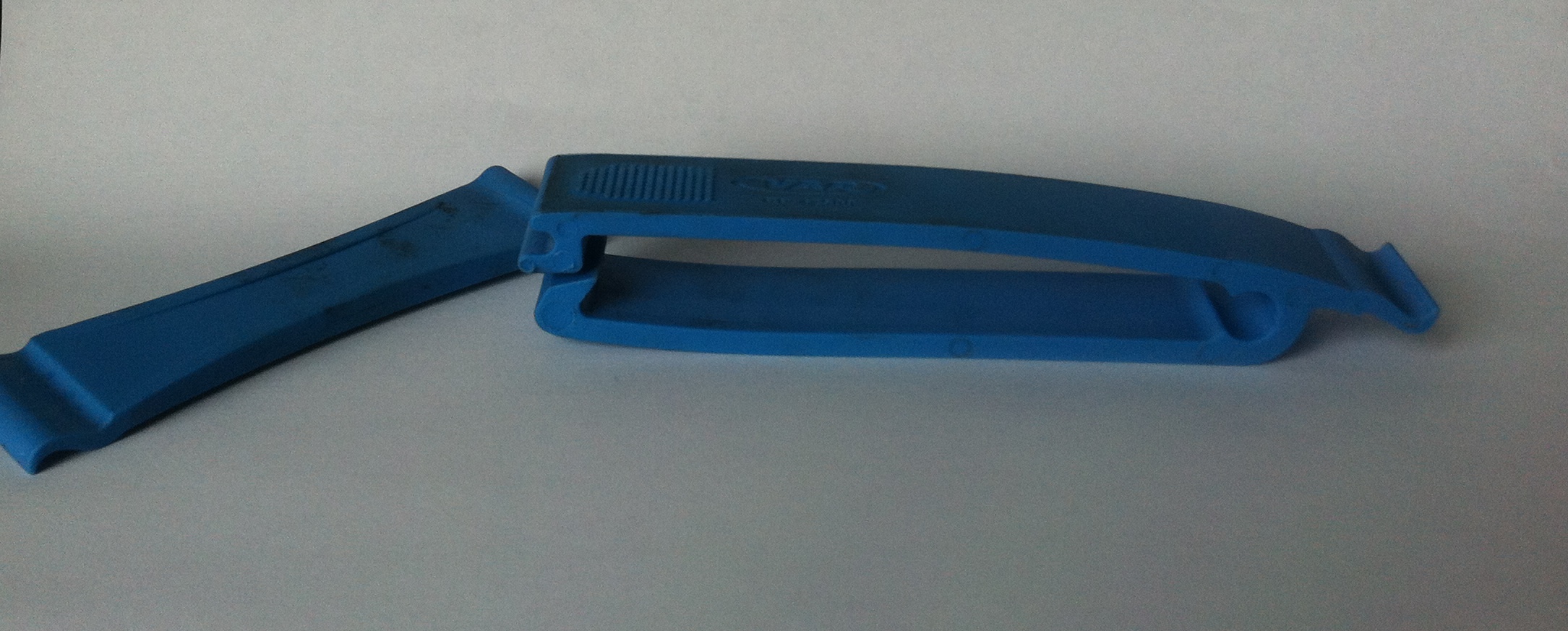 The VAR tool is perfect for getting that last part of your Schwalbe Marathon Plus tyre on the wheel
The next tip is to get a little bit of lubricant over that last part of the tyre, a small splash of Fairy liquid seems to help slide the tyre a little bit.
And last, but certainly not least, get somebody to help! When you're trying to get that pesky last part of the tyre over the rim, you really need somebody to hold the rest of the tyre in place - or the whole blinkin' thing pops out of the wheel. I found using cable ties, toe straps and swearing didn't work for me, a second pair of hands, however, worked a treat.
Schwalbe Marathon Plus, worth the pain
Despite the difficulty getting the Schwalbe Marathon Plus tyre onto the wheel, it's my opinion that the pain is worth it.
Just remember the tips for getting Schwalbe introduced to the wheel, and you'll be fine:
Watch the video above
Have some Fairy liquid handy
Use the VAR tool
Get a friend to help (or, in my case, get your teenage son out of bed to lend a hand)
Where to purchase your new Schwalbe Marathon Plus tyre There are numerous places to get your cycle gear, and specifically, your Schwalbe Marathon Plus tyre. My Schwalbe Marathon Plus 622x32 were purchased from Wiggle. But you may also want to try that goliath of online shopping Amazon.

Have fun!